Local History
World War II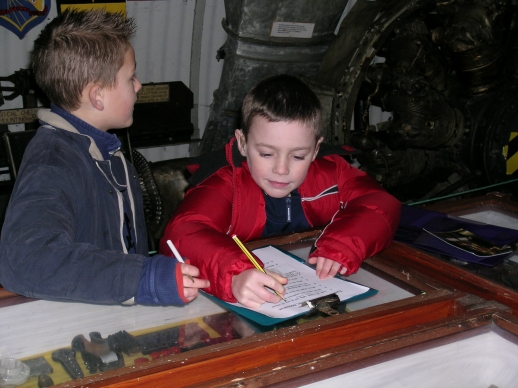 (Learning about 446th Bomb Group based at Flixton during WW2)
Description
The experience follows the lives of children in East Anglia in World War II. How children lived and to hear about the lives of children then.
Four Study Areas
Home Front / Sea Prince
Sit in an original Anderson shelter removed from a garden in Norwich with sound effects of air raid siren sounding, bombs dropping and then the 'all clear'. Explore life for children during WW2 Sit in a Sea Prince Aircraft and track a submarine.
| | |
| --- | --- |
| Training cockpits, some used by WW2 pilots. All children have a 'flight' during their visit to the museum in one of our simulators. There are four simulators, two moving Link Trainers and two static, but with good graphics, Microsoft Flight Sim equipped simulators. The children can also visit two partially restored simulators. This helps them to learn about the effect of aircraft controls. | |
446 Bomb Group
| | |
| --- | --- |
| | Children study the influence of the American presence at Flixton during WW2 and see artefacts from American Servicemen who were stationed here. Visit the museum's Bomber Command section and learn what an important part Bomber Command played during this time. |
Valetta Aircraft
| | |
| --- | --- |
| While on their visit to the museum the children visit the rare Valetta aircraft. In the Valetta the children learn of experiences of children who were evacuees. They have the chance to try on replicas of gas masks used in World War II. | |
In addition
Children also have the chance to look around the rest of the museum, study survival methods and learn about Morse Code. We also have a small shop where children can purchase souvenirs of their visit. The programme only runs on Tuesdays.
There is no charge but we do encourage a donation of at least £2 per child.
Teachers please note it is important to book early in the term as these days get over booked and we often have to turn schools away. All volunteers in this programme are CRB checked.
For further information about this project contact:
Pam Veale
T: 01508 532646