RAF Air-Sea Rescue Museum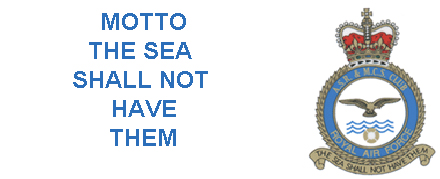 From 1918 to 1986 the Marine Branch of the Royal Air Force supplied waterborne support, rescue facilities and services for the Royal Air Force throughout the world.
Inaugurated as the Marine Craft Section just eleven days after the Royal Air Force itself was founded, it initially provided back-up for the flying boats but it also developed a rescue service which during and after the second world war became the largest in the world. During the war years alone over 13,000 lives were saved by the crews of the high speed rescue launches who faced enemy action and all weathers to uphold their pledge of "The Sea Shall Not Have Them".
The launches were involved in many major actions; at Dunkirk five seaplane tenders were deployed rescuing 500 troops from the beaches; at Dieppe 14 launches were in action three of which were destroyed by enemy action and 93 launches were involved in the supporting maritime landing operations on D Day. Launches also supported operations in the Middle East, Malta and Italy and also in the Far East, India, Burma, Malaya and Ceylon. The launches also carried out clandestine operations in Greece, Turkey and occupied Europe. Post-war, amongst other duties, the branch was involved in secret submarine location work, surveys and anti-terrorist patrols. By 1986 the more versatile helicopter had taken over the rescue work and finally the branch was privatized its few remaining maritime activities being taken over by civilian contractors.
Courtesy of Air Sea Rescue & Marine Craft Section Club.
A Museum dedicated to Air Sea Rescue and Coastal Command was officially opened on April 23rd 2000 at Flixton
Around the Air-Sea Rescue Museum
Airborne Lifeboat (ABL) MK1A – No. MVIII
The history of this World War II, RAF Airborne Lifeboat MK1A has been traced by the number on the stern post: MVIII. The record card held by the RAF Museum identifies that it was built under contract by Ranelagh Yacht Yard on the Isle of Wight and later converted to a dinghy – Sailing Training - S/No 4097. The brief unit history follows:
Thornaby, 84 Maintenance Unit (Repair), Calshot (1945), Thorney Island (1946), 238 MU Mount Batten (1947), disposed of (1948).
This type of lifeboat was carried beneath Warwick aircraft and dropped at sea, attached to several parachutes, to ditched aircrew – it would hold 7 men. Other marks of lifeboat followed; these were larger in size and eventually had aluminium hulls. The introduction of helicopters for Air-Sea Rescue operations made them redundant.
This example is 23 feet 2 inches in length and was powered by a pair of "Middy" engines. Construction was doubled skin Mahogany on Rock Elm timbers, with plywood deck and watertight bulkheads. The total weight carried by the aircraft, including wire slings, parachutes, and parachute release equipment, was 1,700lbs.
The boat was fitted with automatically discharging rockets to carry out a sea anchor, and floating lines by which survivors could pull themselves into the boat. It was equipped with oars, a mast and a sail, and lockers contained full engine, sailing and navigation instructions printed on waterproof paper. It would have been equipped with inflatable canopies over the bow and stern (not present).
It was donated to the museum in april 2007 by a collector in Ludham, Norfolk; following long-term external storage it arrived in very poor condition. It is now displayed as near as possible to its operational configuration in World War II - 1943 Onwards – and deck components have been fabricated for completeness.