Lt. Joe Kennedy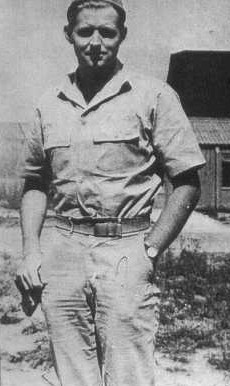 Above, Photograph of Lt Joe Kennedy taken the afternoon of his last flight.
Joseph Patrick Kennedy Jr (pictured above) was the elder brother of John F. Kennedy, a decorated U.S. Navy Lieutenant who served with distinction on motor torpedo boats. Joseph was born on the 28th July 1915, and completed his flight training at Jacksonville, U.S.A. in 1942. As a volunteer U.S. Navy pilot, he flew Mariner flying boats from Puerto Rico, Central America, before converting to the B24 Liberator and was based at Dunkeswell, Devon, with squadron VP110. After completing his normal combat tour, he volunteered for an extra 10 missions, somehow managing to talk his crew into flying with him. On completion, he volunteered for one final top secret mission, which would involve low-level flying and a parachute jump. This was part of Project Anvil - the target being the German V3 Supergun site at Mimoyecques in France.
On the 31st July 1944, his U.S.Navy special air unit moved from Dunkeswell to Fersfield in Suffolk. The mission involved flying an explosive-laden PB4Y-1 Liberator bomber. The crew of two, Lt. Joe Kennedy (pilot), and Lt. Wilford John Willy (radio control technician/co-pilot), were to take off with 21,150lbs of Torpex on board and establish radio control by a Ventura mother-ship. Once full control had been gained and tested, the crew would parachute to safety over land at a pre-determined point, leaving through the nose wheel bay emergency exit. The bomber would then continue the rest of its flight as a drone, and be directed to crash onto the target.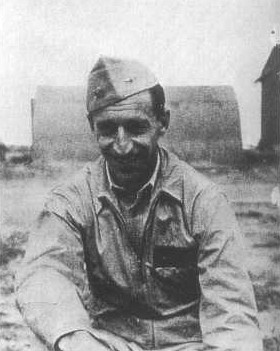 Wilford John Willy (pictured above) was born on the 13th May 1909. He had volunteered for the U.S. Navy in 1933 as an Able Seaman and worked his way up through the ranks, studying electronics and becoming an expert in radio-controlled systems for top secret U.S. Navy weapon projects. He also became a pilot and was certified to fly various aircraft including the B24 Liberator. Lt. Willy had not seen active duty during the war because of his involvement with top secret projects. He designed most of the weapon system for the Liberator drone in which he would eventually die - he had pulled rank on Lt. Kennedy's co-pilot (Ensign Simpson) because he was determined to do all he could to ensure Project Anvil was a complete success.
At 5.59pm August 12 1944, after all the accompanying aircraft had taken off from Fersfield airfield, Lt. Kennedy lined up the Liberator (serial 32271) on the main 6,000ft runway. After making a text book take-off he slowly climbed to the operating height of 2,000ft and continued to fly on the planned course, forming up with the rest of the formation over Halesworth, Suffolk. The formation consisted of two Ventura motherships (if there were a problem with one, the second could assume radio control of the drone once the crew had bailed out), one P38 camera aircraft, 4 Mustangs from the 20th Fighter Group as low level escort, one B17 filming, and two American Mosquito aircraft on detachment from the 25th Bomb Group Photographic Wing as observers. Once the formation had cleared Halesworth, the Liberator was switched from manual flight to radio control and the pilot in the Ventura mothership executed test turns under full control. Lt. Kennedy, now flying as a passenger, radioed the codename "Zoot Suit" to tell the other crews that everything was fine. Lt. Willy then switched on "Block", which was the codename for the TV camera in the nose, used to guide the drone onto the target. Two minutes later the drone suddenly exploded over New Delight Wood, Blythburgh, Suffolk - the wreckage was scattered over an area approximately 3 miles long and 2 miles wide. 3 square miles of heath land were set on fire, 147 properties - some up to 16 miles away - were damaged, and hundreds of trees in New Delight Wood were felled as a result of the blast. Despite all this, no civilians were killed.
The cause of the explosion has never been established but could have been due to a lack of electrical shielding on "Block", which caused electro-magnetic emissions to open up a relay solenoid that should have been closed; this would have activated one of the MK9 detonators, which in turn would have set off the load of Torpex. The details of this mission remained secret until 1966; the names of the crew members were not disclosed until 1970.
Distribution of Explosive
FLIGHT DECK : 17 BOXES OF TORPEX 1,071 LBS
NOSE WHEEL BAY : 16 BOXES OF TORPEX 1,008 LBS PLUS 1 MK9 DEMOLITION CHARGE
COMMAND DECK : 28 BOXES OF TORPEX 1,764 LBS PLUS 1 MK9 DEMOLITION CHARGE
FORWARD BOMB BAY : 141 BOXES OF TORPEX 8,883 LBS PLUS 2 MK9 DEMOLITION CHARGES
AFT BOMB BAY : 172 BOXES OF TORPEX 10,836 LBS PLUS 2 MK9 DEMOLITION CHARGES
TOTAL LOAD 374 BOXES OF TORPEX EACH WEIGHING 55 LBS
TOTAL WEIGHT 21,170 LBS
Mimoyecques V3 site
Work on the site commenced in September 1943 and mainly prisoners-of-war and slave labour were used. The construction employed 482,000 tons of concrete, and 7 kilometres of tunnels were completed. The V3 Superguns were planned for two locations: the east site at Mimoyecques, and another to the west, 3 kilometres away. Both sites were to house 25 gun barrels in 5 banks of 5 - placed at a fixed angle and buried 30m into a chalk hill. Each gun barrel was approx 420ft long, built in segments and bolted together. The bore was 150mm/5.9ins, firing a finned projectile measuring 7ft 9ins, made from chrome nickel steel and weighing 140kg. The likely explosive charge being 15-20lbs (7-9kg), with an maximum expected firing rate of 600 rounds per hour; London being the target. Each projectile would be loaded into the breech of the barrel and fired electrically to set off a series of booster charges, two every 12ft of the barrel length. The expanding gases inside the barrel reached a pressure of 4,000 kilograms per cubic centimetre, accelerating the projectile to a speed of 5,000ft per second (about Mach 6), in order to reach London 95 miles away. Test firing had produced unpredictable results, however. The V3 sites were attacked on several occasions without causing much damage but, whilst some barrels had been installed, they were never completed. Finally, in July 1944, the site was bombed by 14 Lancasters from the RAF's No. 617 Squadron, led by Group Captain Leonard Cheshire, and one or more of the ground-penetrating Tallboy bombs (12,000lbs/5,400kg), developed by Dr. Barnes Wallis, detonated some 30m below ground and rendered it permanently inoperable. In September 1944, the Canadian Army attacked the sites but the Germans had gone, taking with them all documentation and much of the equipment on the orders of Adolph Hitler.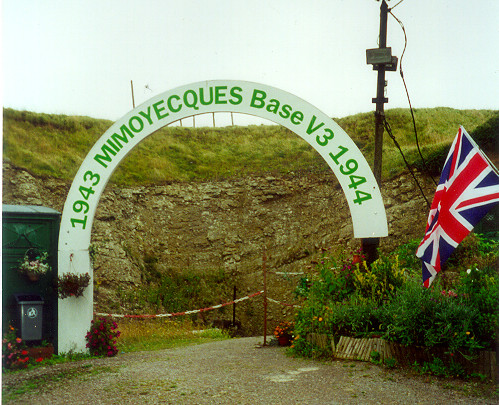 The picture (above) shows the entrance to the V.3 Supergun site, and today it is a privately-owned museum dedicated to the memory of those who died there during World War II. There is also a small, permanent display in our museum about Operation Anvil and Lt. Joe Kennedy, with photographs, models and some artefacts.
Lt. Joe Kennedy was posthumously awarded the Navy Cross and the Air Medal (Lt. Willy likewise was awarded the Navy Cross), and in 1946 a destroyer, the USS Joseph P. Kennedy Jr (No. 850), was launched (decomissioned 1973) as the Navy's tribute to a gallant officer. The same year, the Joseph P. Kennedy Jr Foundation was established by Ambassador and Mrs Joseph P. Kennedy to honour their eldest son. Following distinguised service in the U.S. Navy, Lt. John F. Kennedy was retired on physical disability in March 1945. He became President of the United States of America in 1961; the position that Joe would very likely have been groomed for had he survived.
Part of our display on Project Anvil and Lt. Joe Kennedy
John F and Joe Kennedy in uniform
Initial research by Trevor Jermy; additional information from Ian Hancock.